Focal an am Céanna
Focal an am Céanna (Word of the While)
Focal an am Céanna (Word of the While) is my fun with Irish word page.
Every once in a while I'll post a new word or phrase to help me and any one else interested learn a little more Gaelic.
~~~~~~~~~~~~~~~~~~~~~~~
Gabh mo leithscéal mo chuid Gaeilge bocht.
If there are any errors, I apologize -- resources for translation are limited. Feel free to email me corrections
Current FaaC (W.O.W)
féidir - can

Is féidir linn.

Yes, we can.
(In honor of President Obama's visit to Ireland)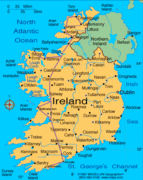 Previous FaaC/WoW
fill (ag filleadh) - return (returning)
Beidh mé ag filleadh go Éirinn go luath.


I will be returning to Ireland soon.
fantaisíocht - fantasy
Tá mé ag scríobh úrscéalta fantaisíocht.
I am writing fantasy novels
cleacht - practice
Gá dom mo chuid Gaeilge a chleachtadh níos minice.
I need to practise my Gaelic more frequently.
fuaidrigh - wander
Fuaidrigh mé timpeall na sráideanna ar Gaillimh.
I wander the streets of Galway.
féidearthact - Possibility
Tá saol lán na fhéidearthact
Life is full of possibility.
An tsíocháin agus an grá - Peace and Love
An tsíocháin agus an grá chugaibh
Peace and Love to you (all)
díomá - disappointment/sorrow
Athrú i mo rianta d'Éirinn. Tá mé díomá mór.
A change in my path to Ireland. I am greatly disappointed.
rian - course, path
Is é mo dhóchas go bhfuil mo rian nua is ag scríobh.
It is my hope that writing is my new path.
aisling - dream, vision
Aka my alter-ego, my hope, the place rife with all the trials, tragedies, and foibles of reality yet greater chance at happy endings.
dáiríre - In earnest, seriously
Ba mhaith liom go dáiríre a scríobh
I seriously want to write.
Athbhliain faoi Bliain - Happy New Year!
deacair - difficult, hard
Tá Gaeilge go deacair! - Gaelic is difficult
Beannachtaí na Nollag - Blessings of the Holidays to you and yours
Under Construction